Language support (50+ kinds)
Chinese, English (USA, UK, AUS, IND), Japanese, Korean, German, French (FRA, CAN), Spanish (ESP, MEX, Latin America), Portuguese (BRA, POR), Russian, Italian, Arabic (UAE, KSA, EGY)

Thai, Hindi, Vietnamese, Filipino, Malay, Indonesian, Burmese, Cambodian, Bengali, Nepali, Javanese, Tamil, Cantonese, Traditional Chinese

Polish, Danish, Finnish, Dutch, Czech, Romanian, Norwegian, Swedish, Slovak, Turkish, Greek, Hungarian, Catalan, Hebrew, Ukrainian, Latvian, Serbian, Croatian, Swahili More will be updated.
Button Description
Translation buttons—Press and hold the Translation button and say what you want to translate, and then release the button to get translation.
Touch Screen—You can tap and swipe with finger.
Power button—Press and hold to turn on/off , Press to sleep/wake.
Connect to a Wi-Fi network.
To connect to a Wi-Fi network, please follow the instructions on screen: tap Connect.
Set source language and target language
Click the language bar to enter the language selection list and set the language.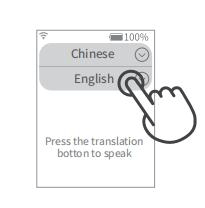 How to translate
Translation buttons are below the screen, press and hold the button to speak; Release the button, and the device automatically collects the language to get voice and text translation.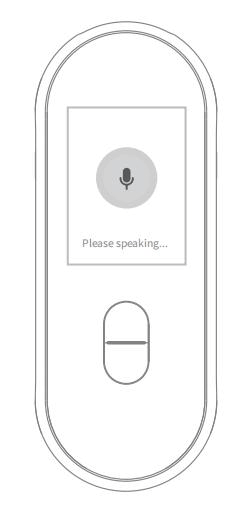 Button Description

· Uncertified or incompatible power supply, charger or battery may cause fire, explosion or other dangerous situations.
· Please use a 5V 1A rated power adapter to charge the Translator. Using other type of adapter will void your warranty and violate state laws, and may cause dangerous situations.
· Use the Translator and accessories where the ambient temperature is between 0°C and 45 °C, and the storage where the ambient temperature is between -20°C and 45°C.
Low-or high-temperature conditions may damage the Translator.
· Do not expose the Translator to high temperature environment outdoor or near heat generating equipment. · When the battery is full or not being charged, pls disconnect the charger from the Translator, and remove the adapter from the power source. · Do not attempt to replace the built-in battery and accessories shall be disposed in accordance with local laws and regulation.